The BIS (Bibliographia Internationalis Spiritualitatis) offers an academic bibliography in spiritual theology, Carmelite studies and theological anthropology and is proposed by the Pontifical Theological Faculty Teresianum in cooperation with the Institutum Carmelitanum, both located in Rome. The first publication in 2019 begins with about 9,000 bibliographic entries and includes the bibliography since 2007.
The BIS was published at the Teresianum in 41 volumes from 1969-2009 (ISSN 0084-7834) covering the bibliography of the years 1966-2006 under the direction of Fr. Juan Luis Astigarraga, ocd, along with various collaborators. The publication is now proposed on the Brepolis platform.
---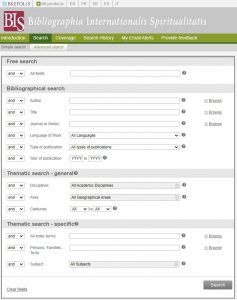 Aims
Facilitate and improve research in spiritual theology and spirituality studies.
Provide the main platform for Carmelite studies and encourage research in this area.
Content
The bibliography is limited to three categories or disciplines:
Spiritual theology
Carmelite studies
Theological anthropology
The index contains approx. 500 keywords and approx. 1,000 persons and writings. To facilitate the search, the keywords are structured hierarchically. This allows one easily to change levels so as to increase or decrease the number of entries.
Key features
First publication with approx. 16,000 bibliographic entries often with abstracts, DOIs and hyperlinks to full texts (2019); 200 reviews.
Many Christian and Carmelite spirituality journals have been fully indexed since 2007.
Multilingual interface (English, Italian, Spanish, French and German)
Subjects in English, Italian and Spanish
Advanced search options (author, title, year of publication, ISBN and ISSN, geographical area, discipline, period, key subject, persons, writings, etc.)
Exporting the bibliographic entries in various formats (Endnote, Microsoft Office Word, Refworks, Zotero, etc.).
Creating e-mail notifications in one's field of interest
Team
Project coordination
Christof Betschart, ocd betschart@teresianum.net
Lukasz Strzyz-Steinert, ocd strzyz@teresianum.net
Cooperation with the Institutum Carmelitanum
Giovanni Grosso, ocarm p.giovannigrosso@libero.it
Main bibliographers
Axel Alt, 2018- bis@teresianum.net
Ignacio Husillos Tamarit, ocd, 2017-2018
Editorial Committee
Laura Dalfollo, Ciro García, ocd, Silvano Giordano, ocd, Giovanni Grosso, ocarm, Emilio Martínez, ocd
Scientific Committee
André Brouillette, sj, Raffaele Di Muro, ofmconv, Jesús Manuel García Díaz, Jean-Baptiste Lecuit, ocd, Juan Antonio Marcos, ocd, Michael Plattig, ocarm, Rosanno Zas Friz de Col, sj
Collaborators
Eliseusz Baginski, ocd (2018-), Ton van der Gulik, ocarm (2017), Laura Dalfollo (2017)
Copyright
© Pontificia Facoltà Teologica Teresianum (Rome, Italy)
© Institutum Carmelitanum (Rome, Italy)
Contact and suggestions
For the project (Teresianum): Lukasz Strzyz-Steinert, ocd (strzyz@teresianum.net), Christof Betschart, ocd (betschart@teresianum.net)
For the bibliographic content: Axel Alt (bis@teresianum.net)
For the cooperation with the Institutum Carmelitanum: Giovanni Grosso (p.giovannigrosso@libero.it)