Professors' publications
---
---
C. Betschart, OCD: L'humain, image filiale de Dieu. Une anthropologie théologique en dialogue avec l'exégèse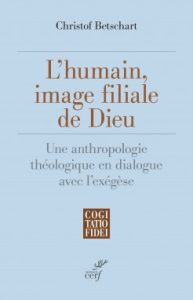 Christof BETSCHART, L'humain, image filiale de Dieu. Une anthropologie théologique en dialogue avec l'exégèse, Éditions du Cerf, Paris 2022.
Secondo la Genesi, l'uomo e la donna sono stati creati "a immagine di Dio". Questa affermazione, nonostante la sua apparente semplicità, è tra le più discusse e ambigue della tradizione giudaico-cristiana. Cosa può significare per gli esseri ambivalenti che siamo? Rispondendo, l'autore colma una lacuna nella teologia (francofona) basandosi nella sua elaborazione sistematica su uno studio approfondito dei testi biblici. La rilettura cristologica dell'immagine di Dio che identifica in Cristo sia il prototipo che il modello di tutti gli esseri umani viene prolungata con un'interpretazione filiale. La tesi che l'immagine di Dio consista nella filiazione divina viene sviluppata per rendere più concreta l'immagine creata e ricreata, ma anche per rivisitare alcune grandi questioni dell'antropologia teologica recente come il rapporto tra natura e grazia, la mediazione cristologica dell'antropologia e viceversa, il binomio essere e relazione.
Éditions du Cerf
Collection Cogitatio Fidei, 315
Paris 2022
Pagine: 528
ISBN : 9782204147309
B. Moriconi, OCD: Giuda. Uno di noi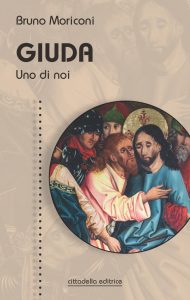 Bruno MORICONI, Giuda. Uno di noi, Cittadella Editrice, Assisi 2021.
«L'ottica del libro è strettamente evangelica, e il dato di quelle fonti resta essenziale e normativo, anche se le parole e i silenzi di quei testi aprono alla possibilità di una lettura più profonda.  Nel racconto evangelico del cosiddetto tradimento c'è spazio anche per la scoperta di aspetti che non possono essere trascurati, neppure riguardo al caso di Giuda, che non è solo l'archetipo e il modello dell'errata condotta tout court. A suo modo, doveva volere ancora bene a Gesù, se ne piange la sorte e si tormenta al punto da togliersi la vita. È questa la domanda che - senza voler sottrarre la figura di Giuda al suo mistero - soggiace a ogni passo del libro e ne costituisce il filo conduttore».
R. F. D'Souza, OCD: "Yes Lord, I have Believed". The Role of Martha's Confession of Faith in the Fourth Gospel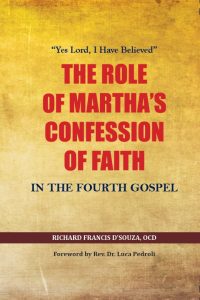 Richard Francis D'SOUZA, "Yes Lord, I have Believed". The Role of Martha's Confession of Faith in the Fourth Gospel, Dhyanavana Publications, Bengaluru 2021.
Questo studio contribuisce alla discussione circa l'autenticità e la rilevanza della confessione di fede di Marta (Gv 11,27), nel contesto del segno del risvegliamento di Lazzaro (Gv 11,1-54) e della sua funzione narrativa nel vangelo di Giovanni. Più precisamente, questo studio mira a riabilitare la confessione di fede di Marta nel vangelo di Giovanni e a riconoscerla come compimento del libro dei segni e la prefigurazione del libro della gloria, sullo sfondo della conclusione cristologica e soteriologica del vangelo (Gv 20,30-31). Inoltre, tenta di presentare una caratterizzazione inclusiva di Marta, attraverso una lettura ravvicinata delle scene in cui lei appare come personaggio rilevante.
C. García, OCD: Santa Teresa de Los Andes. Introducción a sus Escritos. Una clave de lectura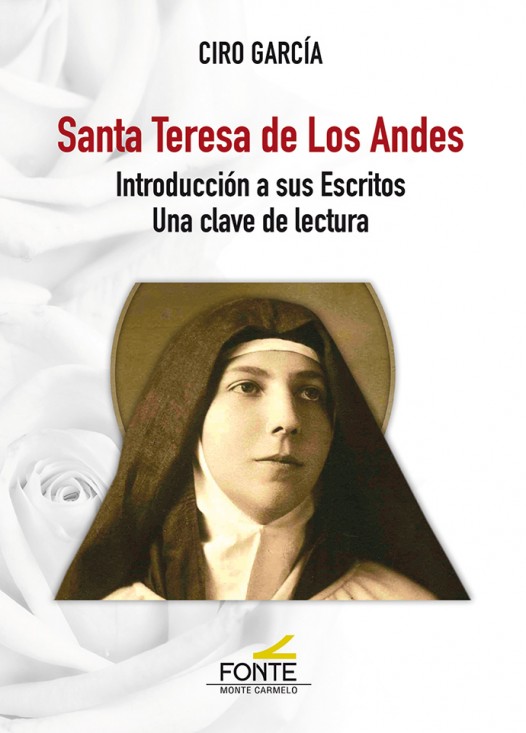 Ciro GARCÍA, OCD: Santa Teresa de Los Andes. Introducción a sus Escritos. Una clave de lectura, Burgos 2020.
Questo studio sugli scritti di santa Teresa di Los Andes presenta importanti novità. Tra le altre si segnalano:
la sintesi teologico-spirituale del suo messaggio sui grandi temi della vita cristiana, che ha studiato e insegnato nelle sue catechesi;
la descrizione del suo viaggio spirituale dalla sua infanzia e adolescenza alle alte vette mistiche, evidenziando il suo processo di maturazione umana e spirituale;
il commento alle sue lettere alla famiglia e agli amici, dimostrando una straordinaria empatia con tutte le persone e accompagnandole nel loro cammino;
l'esposizione delle fonti dei grandi mistici del Carmelo, con i quali si sente identificata i cui scritti alimentano e fecondano la sua vita;
la raccolta di una serie di documenti inediti che gettano nuova luce sulla figura della Santa. 
È una lettura pedagogica della vita e degli scritti della Santa che illuminano il cammino di chi si lascia guidare da lei, diventando fonte di gioia e di speranza.